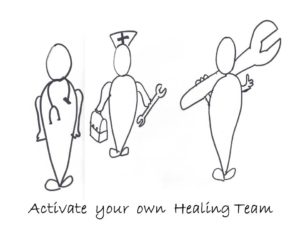 In the past, when faced with making decisions on which is the best Healing Path to take and which medicine is the most effective to take, most people only had two choices Traditional Western Medicines or Alternative Medicines. We had to choose one or the other as they did not always work well together. This was sometimes a difficult decision to make and was often based on fear, "What if this does not work, what if this does not agree with me, what if I make the wrong choice, what are the side effects, what shall I do, which is the best choice for me? "
Today we are fortunate to have  many choices available to us that will work effectively with both Traditional and Alternative Healing Medicines. These choices are referred to as Complementary Therapies, they can work independently on their own or can be used to complement, enhance and support Traditional or Alternative medicines.
Complementary Therapies aim to heal the whole person, they are sometimes referred to as Wholistic or Holistic Medicine. These therapies are based on the body`s innate ability to heal itself, the interaction between the body, mind, and soul, and the interconnection of the energy systems within the physical and non physical body sometimes referred to as Chi or Prana.
Complementary Therapies help us to understand –
-how we function on an energetic level,
-how our thoughts, words and deeds impact us,
-how our emotions, past pains, and traumas are stored within us,
-the importance of releasing and letting go of these past issues,
-the importance of achieving and maintaining good health,
-how our underlying belief systems limit us,
-how our intentions can make a difference in the results we achieve,
-how we can be more involved in our own healing process,
-that we have more options to choose from.
Complementary Therapies share some philosophies  –
-illness occurs when the body is out of balance or dis(at)ease,
-The body can heal itself and maintain a healthy state if given the right conditions,
-The whole person should be treated, not just the disease or the symptoms,
-The gentlest of therapies must be tried first before harsher ones,
-There is no quick fix, since healing and balance take time,
-Natural products are preferable to synthetic ones,
-The only person that can heal you – is you, practitioners can only assist you,
-Love and laughter is the best medicine- if not working quickly enough
then increase the dosage,
-You must keep all your health care providers informed of your choices to ensure that you
are using your medicines and treatments safely.
Complementary Therapies teach us  –
-to focus more on what we can do for ourselves,
-to take more responsibility for our lifestyle choices,
-how everyday items can be used to help the healing process,
-how colours, touch, sounds, smells, taste can contribute to our well being,
-many simplistic, effective techniques that we can implement for ourselves,
-how to create our own combination of health care systems available to us,
-to trust in our inner knowing, instincts and intuition,
-that some of the oldest of remedies are as still as effective today,
-that sometimes what seems impossible can become possible,
-to discover more about ourselves and what we can achieve for ourselves.
What I like most about complementary therapies is that we have opportunities to study and learn how to implement these techniques for ourselves.  Some courses offer certification to become a practitioner so that we may help or assist others as well as ourselves, some courses offer certification to become a teacher. Some practitioners have spent years studying their profession in order to become qualified to practice or teach what they have learned.
The increasing use of complementary therapies has begun to trigger scientific research which is now producing scientific evidence about their safety and effectiveness, as well as historical data. Technology can now see energy fields by using Kirlian photography; it can record the changes in electromagnetic energy when a practitioner works on a client; it can see the vibrational patterns created by sound and watch as they create wonderful geometric designs that change when the sound is altered. Sometimes, these therapies are less invasive and more cost-effective than conventional medical treatments. Nonetheless, it's still important to ask about both potential benefits and potential harms of any therapy. All practitioners recognize and respect the medical profession and will always encourage clients to seek medical advice for possible options and choices available.
Complementary Therapy Practitioners – how to find the right one for you
-Ask friends and work colleagues for word of mouth referrals,
-Ask your doctor or pharmacist for a referral,
-Research local listings for holistic practitioners in your area,
-Research the therapy by name and look for list of recognized practitioners,
-Contact the professional association closest to you and ask for members,
-Look for healing fairs or wellness fairs in your area and explore the event,
-During your first visit ask the practitioner about their training and qualifications,
-Ask your practitioner if they teach or where you can learn more for yourself,
-Choose a practitioner who willingly shares their knowledge and teaches you
how  you can implement some of the techniques for yourself.
-Choose a practitioner or teacher whose main goal is to help you empower yourself and
not be dependent on their services,
-Choose a practitioner or teacher you feel comfortable with, someone with whom you are
willing and able to be open, honest and candid with,
-Choose a practitioner who is willing to help you find answers and solutions, even if they need
to refer you to another practitioner who is better qualified or better able to help you,
-Choose a practitioner who you feel will respect your privacy and confidentiality and can trust.
-Choose a practitioner or teacher who supports you and genuinely cares.
Complementary Therapies can be grouped together, they can be
Boiologically based – such as herbs, botanicals, vitamins, organic based, probiotics, nutrition.
Energy based – such as energy medicine, electromagnetic forces, sound, colour, vibrations, biofields, kinesiology, acupuncture,
Manipulatively based – such as therapeutic massage, chiropractic, reflexology, acupressure.
Mind Body based, such as brain gym, meditation, yoga, tai chi, spirituality, theta, Qi gong
Whole Medical based – such as naturopath, homeopath, traditional Chinese or Eastern Medicines, Shamanism, Ayurvedic.
Following is a list of possibilities for you to explore, discover and learn about for yourself so that you can make educated choices for your own self care programs. The list of choices is ever growing as we discover and learn about new possibilities and techniques.
Acupressure Massage Therapy                           Acupuncture
Angel therapy                                                         Aromatherapy
Art Therapy                                                             Astrology / Numerology
Bach Flower Remedy                                            Bowen Technique
Brain Gym                                                               Chakra Therapy
Colour Sound Therapy                                          Colour Therapy
Coulourtouch Therapy                                          Cranial Sacral
Crystal Therapy                                                      Emotional Freedom Technique
Energy Bubble Technique                                    Energetically Thinking
Homeopathy                                                           Hypnotherapy
Indian Head Massage                                           Intuitive Healing /Intuitive Coaching
Iridology                                                                  Kinesiology
Life Coaching                                                          Magnet therapy
Massage                                                                   Music therapy
Quantum Touch                                                     Reflexology
Reiki                                                                         Shiatsu
Sound Therapy                                                      Spiritual Healing
Theta Healing                                                        Tibetan Energy
Traditional Chinese Medicine
It is –
-wonderful to be able to take action the moment you need help to reduce pain and swelling, ease congestion, quiet the mind, relax or to help ease a sore throat.
-liberating to be able to apply complementary therapy techniques, wherever you may be,
-empowering to take charge of your own health and wellness,
-exciting learning about the many therapies and options to choose from,
-amazing how simplistic some of these techniques are,
-encouraging that science is now able to prove what we are practicing.
Thank you for taking time to read this article I hope you found it of value.