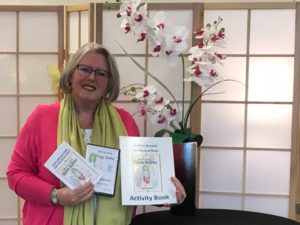 Explore Beyond the Physical Body –
Intuitively Sensing Energy Bubbles
by Hazel Butterworth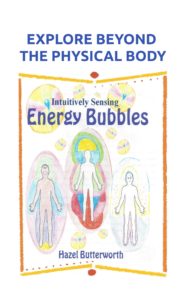 Order your own Soft/Hard copy of
Explore Beyond the Physical Body  –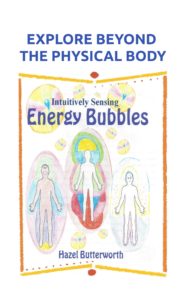 Order your own  E book  copy-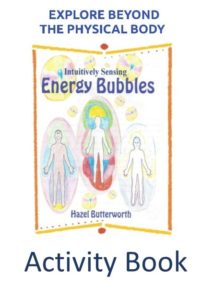 ACTIVITY BOOK FOR
CREATIVE RESPONSES
DIGITAL AUDIO of CD Meditations and additional booklet below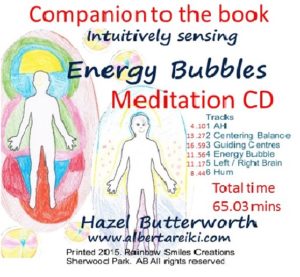 CD Booklet with additional
short written meditations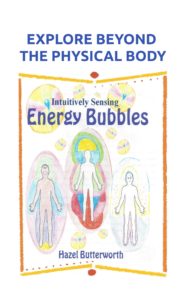 DIGITAL PDF BOOK 
About the Book
Designed for Sensitive Children and Adults, Parents and Teachers

This book contains educational material and experiential activities that will help them to understand how their own subtle energy systems work and to experience that energy for yourself.

This book encourages dialogue with parents or teachers and children to help them understand that these energies are expressed through feelings, emotions, thoughts and actions.

This book encourages creative responses to discover new ways to express what it is children or adults are sensing when they cannot put it into words.

This book  is a visual and practical approach for those who are more creative or kinesthetic in their learning.
Children are struggling not knowing why they feel the way they do, when what they are really feeling or sensing is the energies or emotions of other people, such as anger, anxiety, fears, or sadness.

This book helps to differentiate between those energies and gives children or adults the tools to set healthy boundaries without shutting down, and to be able to make good choices for themselves.
The main purpose of this book is to help learn and understand about the subtle energies that create personal energy, how to harness, control and direct those energies constructively to create Peace, Joy, Calm, Good Health and Happiness.
Hazel is often lovingly called The Catalyst. Her gentle nudges and persistence help you to dig deep to discover the gems that are within you; open your mind to possibilities, and open your heart to love as you develop your own Intuition, Sensory Awareness.
Many clients and students comment how calming her voice is, how effective her teaching is and how grateful they are for having her in their life.
Hazel, a former High School Teacher, is now a Teacher, Catalyst and Luminary of Self Awareness. through Reiki, Colour Sound Therapy, Meditation, Mindfulness, Energetically Thinking and Conscious Awareness. Hazel teaches how to restore balance and wellness to the Body, Mind and Soul. Thoughts, emotions, words and deeds are all an integral part of wellness.
Hazel has a passion for teaching and sharing her knowledge and understanding through workshops, individual coaching, presentations and firmly believes all homes and businesses would benefit from incorporating Self Awareness.