Energetically thinking
            " The windmills of the mind"
     Your busy minds  are a direct result of your
"thoughts, words, and deeds" constantly in motion,
spinning in one direction tilted to the wind,
whichever way that is blowing but getting nowhere.

This 3 step course is for those :
wishing to understand how our thoughts words and deed impact us.

who are frustrated with affirmations that do not work for them

who want to make changes but now sure "HOW TO"

who want a program that works for them, 

wanting a simplistic method with extremely effective results

who want something they can use daily, any time, anywhere.  
First:      Learn how to identify your own thoughts, words and deeds
                that are debilitating you
Second:  Learn how the R.A.T.S. program can help you to construct 
                higher energy frequency thinking.
Third:    Learn how these changes of energy in your own
thoughts words and deeds can create a
healthier lifestyle and a better you.
"It may not be easy but it is Always Possible"
  Start creating your own successes today.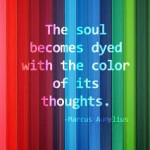 Energetically Thinking 
Thoughts become our words
Words become actions
Actions become habits
Habits become values.
Values become our destiny       Ghandi